Become a Sake Sommelier
Our flagship course, the Certified Sake Sommelier is a fantastic way to increase both your sake knowledge and sommelier skills. Designed to take place over a few days, the Certified Sake Sommelier covers modules such as:
The History & Culture of Sake
Sake Tasting
Sake Production
How to Introduce Sake to clients & customers
Umami
And much more!
Upon passing the examination, students receive their lapel pin and certificate, and can proudly use the post-nominals "CSS".
The Certified Sake Sommelier is accessible to both trained professionals and sake connoisseurs. The course focusses not only providing an unbeatable level of sake education, but also on how to practically make use of that education – whether working directly with clients in restaurants, with product lines in distribution, or with friends over dinner!
What will I learn?
An Introduction to Sake Production
Learn about sake ingredients and their function in brewing.
Study the History and Culture
Discover the history of sake brewing and its place in Japanese society.
Introduction to Tasting Sake
Learn the fundamental steps of tasting sake and how to differentiate between different designations.
Serving Etiquette
Discover how to serve sake like a professional!
Interactive Learning Experience
Formalise your sake experiences with workshop-based learning; and further your passion for sake in our short-format course.
Earn a Lapel Pin and a Professional Qualification 
Advance your career in food and beverage or just learn some new tricks to show off to your friends – our courses are well know globally for their high standards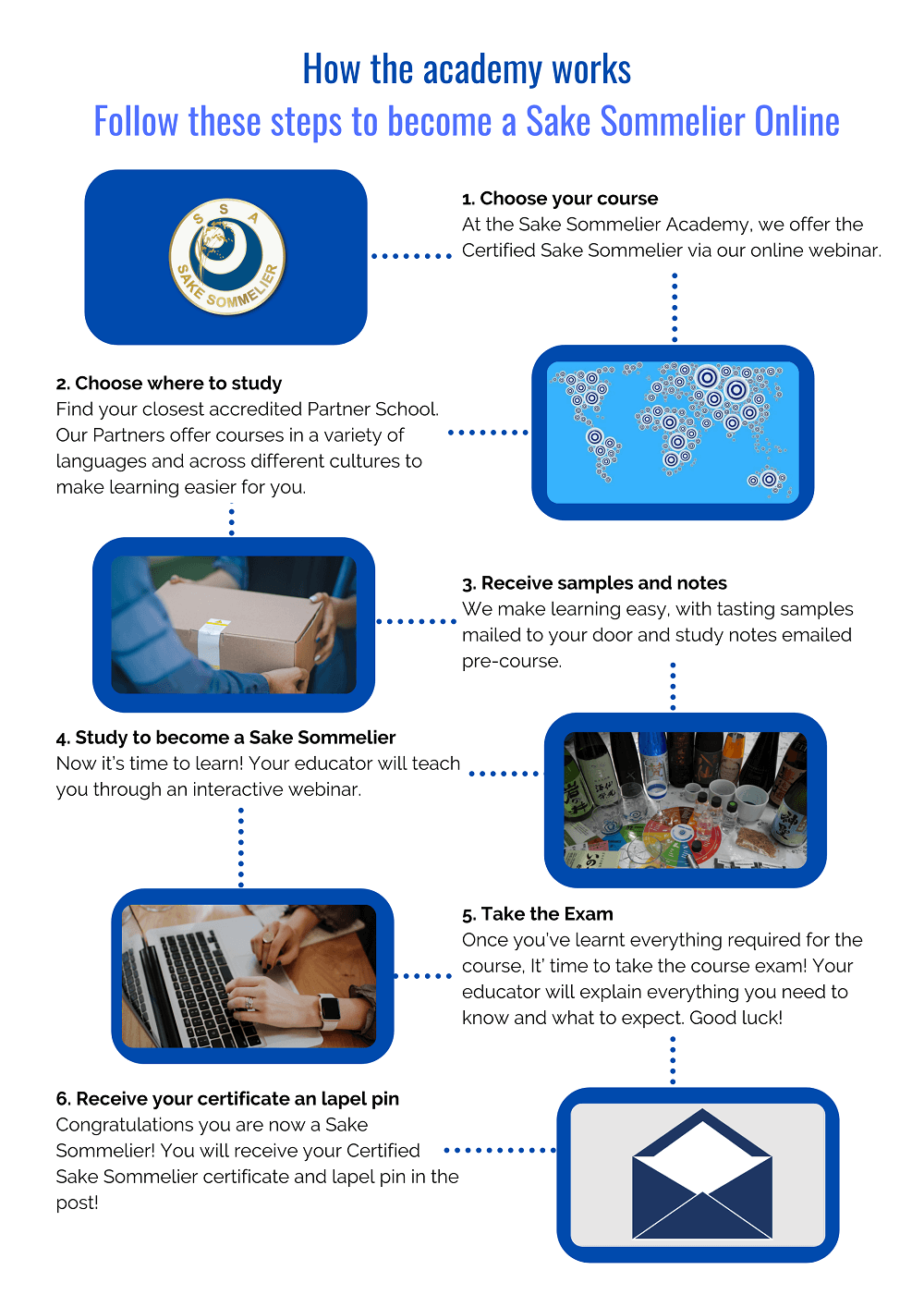 The Certified Sake Professional course is a registered trademark ®
We are delighted to offer the Certified Sake Sommelier course online. Our Sake Educators replicate the in-classroom experience with interactive video conferencing, tasting samples mailed to your door and study notes emailed pre-course.