Danny is one of the first Master Sake Sommelier awarded by the Sake Sommelier Academy. He is a sake consultant to the Food and Beverage industry and is always actively promoting the enjoyment of sake and food pairings especially in the local Malaysian context. He was featured in the international news media, CNN's Culinary Journeys – Saké, speaking on the topic of Japanese Saké pairing with non Japanese Food. Danny was also the successful Organiser and fellow Judge of the 1st Saké Sommelier of the Year competition held out of London in 2019.
Besides his Master Sake Sommelier qualification awarded by the SSA, Danny has also achieved the  Advance Sake Professional certification awarded by the Sake Education Council, Wine and Spirits Education Trust (WSET) Certified Sake Level 3  and also the Wine and Spirits Education Trust (WSET) Certified Wines Level 3.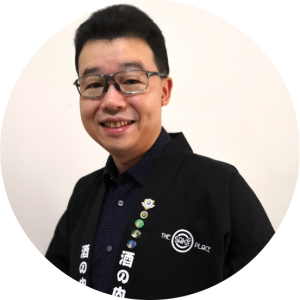 The Saké Place is designed to assist sake lovers to explore and discover the finer intricacies of sake enjoyment through personal discovery. Consumers will gain more insights about the sake breweries featured on the site and can also participate in sake related events held and organized by Danny and his team.