Become a Sake Sommelier
Our flagship course, the Certified Sake Sommelier is a fantastic way to expand both your sake knowledge and sommelier skills. The Certified Sake Sommelier is accessible to both trained professionals and sake connoisseurs alike. The course provides an unbeatable level of sake education and practical knowledge - whether you are working with customers in restaurants, distributing products to clients, or impressing friends over dinner!
This multi-day course covers the broader aspects of the sake industry.
What will I learn?
Train as a Qualified Sake Sommelier
We offer the only official Certified Sake Sommelier ® qualification.
The History and Culture of Sake
Discover sake's role in Japanese society, as well as its booming popularity in the rest of the world.
Sake Production
Learn the in-depth details about sake ingredients and how the beverage is brewed.
Sake Tasting and the Science of Umami 
Practice your tasting and identification skills, with a mind on how to best pair sake with various cuisine.
How to Work with Sake
Learn from industry professionals on how best to store and purchase sake.
Train in an Interactive, Experiential, Environment with a Focus on Workshops
Our highly qualified Sake Educators pride themselves on providing a study environment where everything taught has a practical, usable, learning outcome.
Serving Etiquette
Immersive yourself in the fine-points of serving sake as a Sake Sommelier; study how to identify sake labels and learn how to introduce sake to customers or peers.
Sake Cocktails
Open your palate to the wide range of uses for sake in cocktail making.
Earn a Lapel Badge and Certification
Our Certified Sake Sommelier qualifications are well known throughout the hospitality industry across the world, and passing students also receive lapel badges to proudly display their new-learnt skills.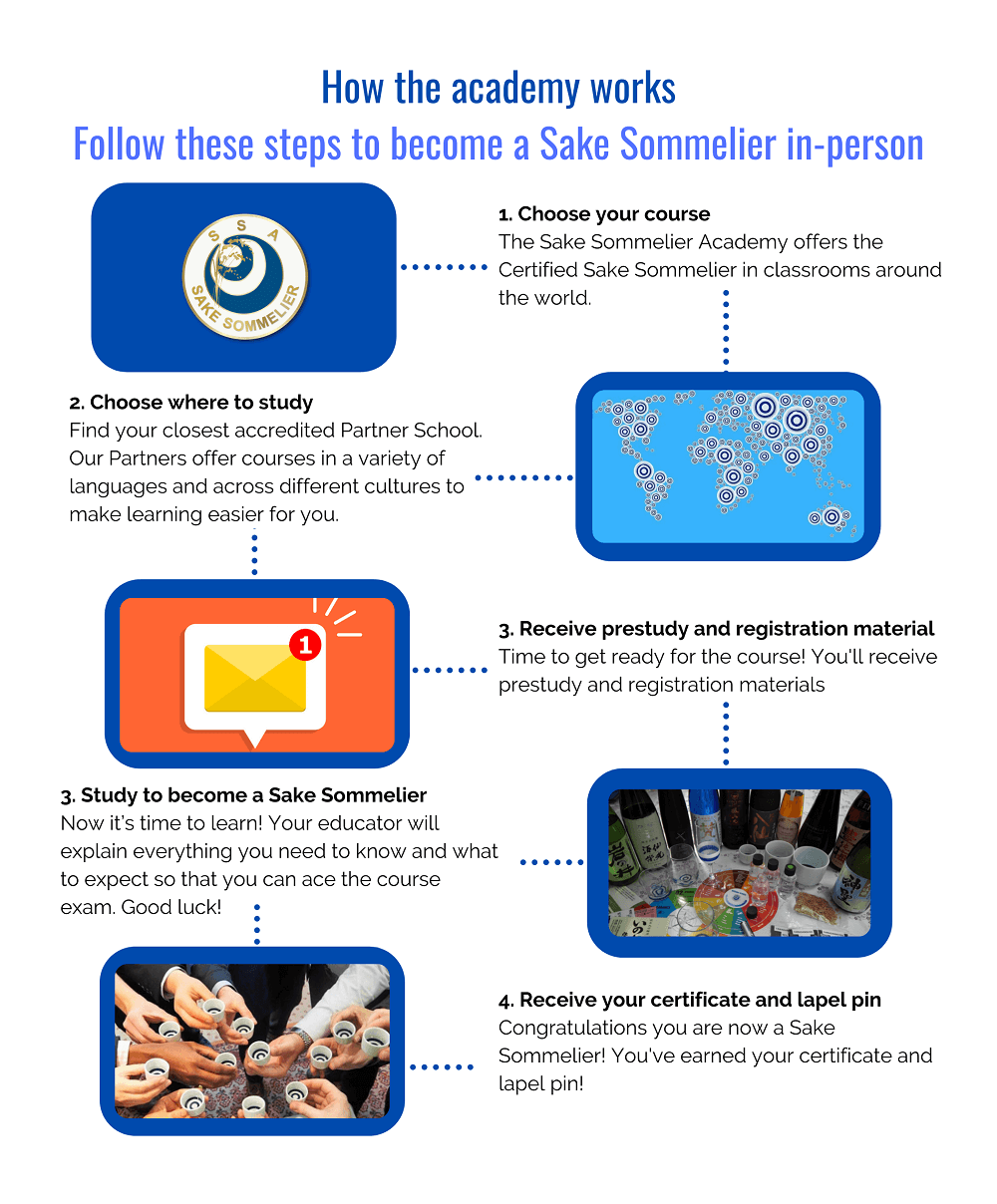 Sake Sommeliers will be eligible to attend the London Sake Challenge and other Regional Sake Challenges as tasting judges as well as enter the coveted Sake Sommelier of the Year competition.
We offer the Certified Sake Sommelier course in person and online. Our Sake Educators offer courses in a variety of languages and across different cultures to make classroom or remote learning easier for you.
The Certified Sake Sommelier course is a registered trademark ®